Don't just take our word for it. Here's what other people have to say about The Magic Broom Window Cleaning and Power Washing!
If you're a member of Angie's list you can check our reviews here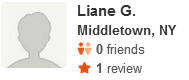 We needed to have our skylights cleaned and found The Magic Broom on the Internet.  I sent an email inquiring about skylights and Mia from The Magic Broom responded immediately that they do wash skylights.  Within 3 days they were here for an estimate and came the next week to do the job.  While here for the estimate Mia said they also could power wash our house and deck.  We were thinking about trying to do those things ourselves but decided to have The Magic Broom do it instead, their prices were very reasonable.  They showed up when they said they would and did an excellent job.  I would highly recommend this company.   We will be using them again. Liane G. Middletown NY

I've got some back issues due to an accident several years ago so when it comes to doing the window cleaning, the siding and the gutter I have to pay to have someone to come out and do the work.  That's why I'm glad that I hired these guys.  They are really excellent people to work with.  They did an amazing job on my windows and the siding looks like brand new.  If you want your house to look super clean on the outside definitely hire this company. Ken B. New Windsor NY

I was a little bit skeptical of hiring somebody to power wash my house, because all the scary stories about people blasting away your siding with a powerful pressure washer. I ask a friend of mine from Middletown, and he gave me the number of The Magic Broom. When i called them to ask them, she spend almost twenty minutes on the phone explain to me the process of softwashing, and she convince me that i don't have anything to worry about damaging anything in my home, so i decided to go ahead and schedule a day. the day of the cleaning they showed up on time and performed a great job, they were able to remove all the mold growing in the back and now the house like brand new!! I can't be happier with the result and the professionalism of this company. I look forward to hire them again next year!

I would highly recommend The Magic Broom Cleaning Services anytime you need your windows cleaned. They are always on time and work extremely hard. NO STREAKS! Thanks. Eric. Monroe, Ny

The Magic Broom team were great! They did a thorough job, used eco products and got our house back in order. They even changed light bulbs and helped remove stains from our sofa. Our bathroom has never looked better. We received a detailed quote and they did every thing they said they would. I have been disappointed with other cleaning services in the past, but not with The Magic Broom. Highly recommended! Bonnie C. Slate Hill, Ny

These guys are great, they power washed my garage and cleaned my house the other day. The house is now sparkling and garage looks like new. The staff is always punctual, proffesional, friendly and thorough. Highly recommended!
Oh !!! i can't wait for spring to have you guys back to clean my windows again. you always do a fantastic job, so profesional and detailed!!! Beth, New Windsor